Today I'm linking up with Faith at
Walk With Me
for her annual Christmas Card Carousel!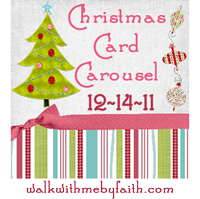 One of my absolute favorite parts of the holidays is getting so many fantastic Christmas cards! I race inside when I get home at night to see what new ones have arrived that day. I of course especially love the photo cards - and am so amazed at how many babies and kids there are on our cards now! I love watching them grow year after year. I proudly display them around the doorway to the kitchen and so enjoy looking at them all through the month.
I also really enjoy sending out our own cards. We have quite a list that we mail cards to - this year I sent almost 100!!
We snapped this cute picture while we were in Richmond over
Thanksgiving
! Cady was a great model and loved her bow!
Since we buy everything at Costco, I figured why go elsewhere for our Christmas cards. They are so reasonably priced, you really can't beat it - $25 for 100! Some of the other popular card and photo sites that I looked at were going to be well over $100, and I just couldn't justify that. And that's even before the stamps! Plus they're ready the next day - so great.
I also send a little family update letter to our family and close family friends who I might not see that often. This year...I can't believe it, but the letter was a full page. Dear God. I can't imagine when we have kids...
Now go link up and share your Christmas card!